On that
subject

...
in Fishing
I have only one thing to say to the blizzard of... MORE
Within the past couple of days, after a long... MORE
Hey, folks. We just finished our most recent... MORE
BEFORE Fisherman's Diet AFTER Fisherman's... MORE
So I got another invitation a la Power Reviews... MORE
Just a quick note here about something that... MORE
OK, folks...the moment you've been waiting for is... MORE
UPDATE: You can view Don's first online video in... MORE
Who knew one of my favorite places to swim as a... MORE
Like watching fishing on TV wasn't enough, now... MORE
in Outdoor
Last weekend my family and I travelled into the... MORE
I have recently purchased and used the book,... MORE
in Marketing
I recently had the opportunity to review the work... MORE
OK, I admit this post might just be a bit of a... MORE
Through my work with a number of public... MORE
So I got this note from Brookstone after buying a... MORE
This is my new favorite.It's the Washlet, and... MORE
As my second installment of Web Master Tidbits, ... MORE
It seems some other folks (including the New York... MORE
Recently, I've been requested by a prospective... MORE
I had the pleasure of reading the recent blog... MORE
in Business
I haven't said much (at least not publicly) about... MORE
Here's one to watch.  Microsoft Point of... MORE
When will they ever learn? I've been watching... MORE
Posted by Bill Haenel on 17-Aug-10
This press release and photo were just forwarded to me by a friend of mine in the media. Hooray for Don! ...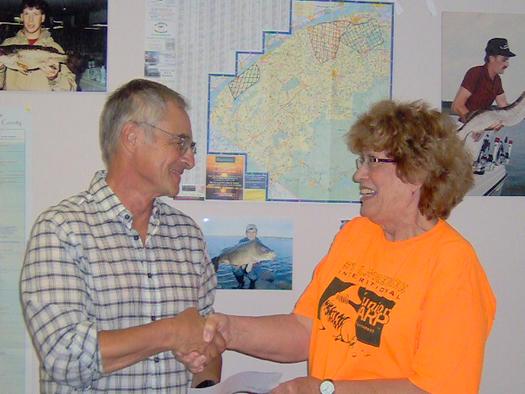 FIRST STEP, FIRST CHECK — St. Lawrence County Chamber of Commerce Director Pat McKeown presents a first check to angling expert Don Meissner to kick off the FIsHCAP Project. The project is an alliance of public and private partners aimed at promoting the St. Lawrence River Valley as the sport fishing capital of the world. Meissner is the project manager. McKeown and Massena Town Supervisor Joseph D. Gray are spearheading the effort. For more information, contact the Chamber, 315-386-4000. (Nesbitt Photo)


Technorati Tags:
[where: 13617]