On that
subject

...
in Video
Just finished reading this very brief post on the... MORE
Here's my new favorite animated art (it takes a... MORE
Hey, folks. We just finished our most recent... MORE
Just a quick note here about something that... MORE
OK, folks...the moment you've been waiting for is... MORE
Like watching fishing on TV wasn't enough, now... MORE
in Outdoor
This press release and photo were just forwarded... MORE
Within the past couple of days, after a long... MORE
So I got another invitation a la Power Reviews... MORE
Who knew one of my favorite places to swim as a... MORE
Last weekend my family and I travelled into the... MORE
I have recently purchased and used the book,... MORE
in Fishing
I have only one thing to say to the blizzard of... MORE
BEFORE Fisherman's Diet AFTER Fisherman's... MORE
Posted by Bill Haenel on 23-May-08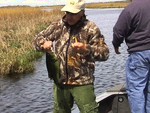 UPDATE: You can view Don's first online video in the Fishing with Don Meissner series, here.
==================================

Anyone who has been keeping up with things here at billhaenel.com has probably noticed my increased focus lately on fishing-related information. Of course this is partly due to my pretty serious love of fishing, but it's also a direct result of some increased interest expressed by some friends of mine who are excited to start publishing their own fishing content somewhere in the great electronic ether.

Specifically, my interested friends are Jim Ingram, my good pal, fishing buddy and trusted mentor, and Don Meissner. In my last post I noted that many would recognize Don as the host of the great fishing show which aired for something like 20 years or more on PBS, Streamside.

Well, let's have it, right? OK. Here's the big news:

We'll soon be releasing a new website for Don to publish his new blog and video blog, which we'll be calling, "Fishing With Don Meissner." Of course, given Don's big-time reputation as a great fisherman and fantastic host, we're all pretty excited to get started. As a result, we've gotten just slightly ahead of the game, producing his first online fishing video without having a site into which it can be published! The really good news is, not only did we produce the video, but we'll also be publishing it right here on billhaenel.com, for all to see.

In the very first episode of "Fishing with Don Meissner," titled "Early Season Largemouth on the St. Lawrence River," Don talks about the behavior of fish in the cold water after ice-out, where to find them, and how to fish them.

Jim and Don went out with Will Clute of Mohawk Trails Guide Service, to fish the St. Lawrence River where it runs through the Akwesasne Reservation. I unfortunately couldn't make the trip, but from what I hear they had lots of big fish, from Largemouth Bass to Smallmouth Bass to Northern Pike and more.

Stay tuned, as I'll be posting the new episode of Fishing with Don Meissner very soon.


Technorati Tags:
[where: 13617]