On that
subject

...
in Music
Sorry to those of you who did not sign up for... MORE
You heard it here first. Or maybe not. But this... MORE
From NYTimes.com: Revisionists Sing New Blues... MORE
Posted by Bill Haenel on 29-May-09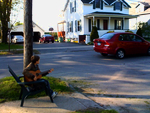 My son decided to sit on our street corner and play tunes for passing pedestrians and vehicles.

He hung a sign on a nearby light pole saying he would take requests for a fee.
He played our baritone ukulele like it deserved a beating.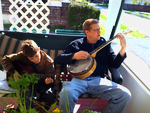 The neighborhood was undoubtedly enamored for blocks around.
We enjoyed a few moments together on the porch swing. We played well. A tenor uke and a banjo.

We want to play like
Jake Shimabukuro
. One of us might some day. It might not be me...
iTunes, Pandora, Amazon, eat your heart out. Music has ALWAYS been available on-demand.


Technorati Tags:
[where: 13617]