On that
subject

...
in Outdoor
This press release and photo were just forwarded... MORE
Within the past couple of days, after a long... MORE
Hey, folks. We just finished our most recent... MORE
So I got another invitation a la Power Reviews... MORE
Just a quick note here about something that... MORE
OK, folks...the moment you've been waiting for is... MORE
UPDATE: You can view Don's first online video in... MORE
Who knew one of my favorite places to swim as a... MORE
Like watching fishing on TV wasn't enough, now... MORE
Last weekend my family and I travelled into the... MORE
in Fly Fishing
BEFORE Fisherman's Diet AFTER Fisherman's... MORE
Posted by Bill Haenel on 30-Aug-06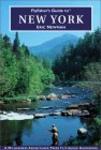 I have recently purchased and used the book, Flyfisher's Guide to New York by Eric H. Newman.
This is easily one of the most valuable fishing books that I now own. It packs in (although not too tightly, so it's actually fairly comprehensive) all sorts of info for fly fishing in New York State. From bodies of water (both still and running), to lodging, to nearby fly shops, etc. Descriptions of rivers, streams and lakes is more than adequate, and references to specific access points is truly helpful.
New York is HUGE. One could spend a lifetime hitting all of the possible locations in our state. Me, personally, if I'm going to embark on such a lengthy lifetime journey, I'd just as soon have a good guide book!
Technorati Tags:
[where: 13617]